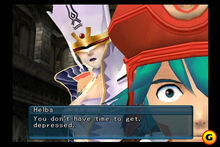 Well hello there Dot Hackers!
My name is Mia and I have been a fan of Dot Hack since watching .hack//SIGN back on Toonami all those years ago (seriously it was a long time). Since then I have become seriously addicted to anything and everything Dot Hack-related. I collect the games, figures, novels, and anything else that I can get my hands on. I am part of the Dot Hack Network on facebook (as a member) and I run my own Dot Hack blog that you can find: HERE
My goals: To improve-upon the current amount of info on this wiki
Favorite Game(s): Dot Hack IMOQ
Favorite Character(s): Helba or BlackRose
Favorite Novel(s): Dot Hack Another Birth
Favorite Anime: Dot Hack SIGN
More about me:
Female
Married
Lesbian
Gamer/Blogger
My favorite pages
Favorite page #2
Favorite page #3
Community content is available under
CC-BY-SA
unless otherwise noted.