Grunty Regalia
In the english version Death Grunty calls them the "three treasures of the Grunty race". Do you think we should change the name to that? Or keep it as "Regalia"? --CRtwenty 01:10, 7 June 2007 (UTC)
Other Grunties
Should we create a section for the unnamed Grunties that appear in the series? A Sakisaka and Tabby Grunty appeared in Roots, and there's pictures of a Silabus Grunty and another Grunty (which actually was named iirc) on the Apkallu section of the BBS. --CRtwenty 17:57, 22 May 2007 (UTC)
Delta?
I thought Δ server didn't have any grunties?--OtakuD50 16:05, 5 September 2006 (UTC)
Paw Brigade Grunties
Were the Sakisaka and Tabby Grunties that appeared in the Paw Brigade's @home ever named? I don't think they were. --CRtwenty 08:05, 26 December 2006 (UTC)
Faces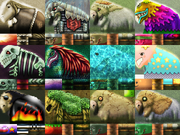 I ripped these skins off the Quarantine disk. Now, why the heck do some of the Grunties have bloody faces? Kulaguy 03:26, 3 April 2007 (UTC)
R1 and R2
I have a question, in the backstory of the world R2 gruntys from R1 were cursed and when they return in R2 those are there true forms?
Grunty Shadows
Has anyone else seen the shadows of the grunties on the orginal games? After the baby grunty stage, their shadow shows them with horns. When they turn into Noble Grunty, the shadows have wings! O_o Is it something that was forgotten from an old grunty design?
Antares
Antares was the original Guildmaster of Icolo so should there not be an Antares Grunty?--Yondaime1987 18:43, 28 July 2009 (UTC)
Community content is available under
CC-BY-SA
unless otherwise noted.