"It is a steam-powered bike invented by humans. It is an extremely expensive item and just riding one of these would earn you jealous stares from the people in the town."
— The World R:2 Official Site —
Steam Bikes (蒸気バイク) are steam-powered motorcycles used by guild leaders and those rich enough to afford one in The World R:2. They offer a considerable boost in speed in both fields and Root Towns. However, Steam Bikes cannot be used in dungeons. Bikes have their own category in the Books of 1000.
Combat
Steam Bikes can be used to crash into monsters to deal damage, counting as a surprise attack when successful. They are also able to run over Lucky Animals and Chim Chims.
Customization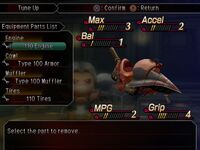 Steam Bikes can be customized with additional parts to enhance their abilities.
Trivia
Steam Bikes are sometimes considered the R:2 equivalent to The World's Grunties, since Grunties still exist, but not in a rideable form.
Steam Bikes were not customizable in Rebirth but were in Reminisce and Redemption.