Orders? No, I'm only offering it as... a suggestion.

To meet .hack//Wiki's quality standards, this article requires general cleanup by formatting or adding more information. Because of this, the information on this page may not be factual. Please discuss this issue on the talk page
Monsters are the enemies that players fight to gain experience. Almost every single Field and Dungeon contains them.
The World R:1 MonstersEdit
In The World, Monsters appear out of Magic Portals. This is a list of Monsters that are found in The World.
The World R:2 MonstersEdit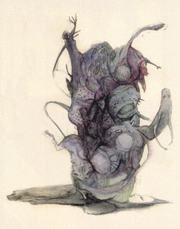 In The World R:2, monsters are controlled by the Shadow that lurks outside the Root Towns. They roam fields and dungeons, and each monster has a field of vision. If players are close enough to the monsters and not within their field of vision, they are able to surprise attack the monsters. Players can also crash into monsters with a Steam Bike.
Monster-Only SkillsEdit
| Skill Name | Type | Element | SP Required | Special Effect |
| --- | --- | --- | --- | --- |
| Gob Help (ゴブヘルプ) | Summon Magic | - | 8 | Summons Ally |
| Flame Dance (炎剣の舞) | Elemental Attack | Fire | 16 | - |
| Water Dance (水剣の舞) | Elemental Attack | Water | 16 | - |
| Gale Dance (旋剣の舞) | Elemental Attack | Wind | 16 | - |
| Gaea Dance (土竜剣の舞) | Elemental Attack | Earth | 16 | - |
| Help Call (ヘルプコール) | Summon Magic | - | 8 | Summons Ally |
| Wrath of Fungi (菌類の怒り) | Elemental Attack | Earth | 16 | - |
| Ambush (強襲) | Physical Attack | - | 15 | - |
| Screw Dive (スクリューダイブ) | Physical Attack | - | 12 | - |
| Head Butt (頭突き) | Physical Attack | - | 15 | - |
| Whistle (汽笛) | Howl | - | 8 | Physical Attack |
| Muscle Bomber (マッスルボンバー) | Physical Attack | - | 20 | - |
| Sonic Shot (ソニックショット) | Elemental Attack | Wind | 15 | - |
| Shock Cannon (衝撃砲) | Gun Attack | - | 12 | - |
| Shockwave (爆裂波) | Shockwave | - | 20 | - |
| Heavy Flail (ヘビーフレイル) | Physical Attack | - | 12 | - |
| Earthquake (アースクエイク) | Shockwave | - | 10 | - |
| Crack (クラック) | Shockwave | - | 10 | - |
Normal MonsterEdit
Normal BossEdit
AIDA MonsterEdit
Story BossEdit
Link Play BossEdit
Need SortingEdit