Orders? No, I'm only offering it as... a suggestion.

To meet .hack//Wiki's quality standards, this article requires general cleanup by formatting or adding more information. Because of this, the information on this page may not be factual. Please discuss this issue on the talk page
It's only a virtual world, I realize, but thoughts turn into reality, so the world I abandoned by resetting might have remained engulfed by evil.

The information in this article comes from a non-canon media.

.hack//GIFT is a single-episode OVA featuring characters from the .hack//Games and .hack//SIGN. It is a non-canonical self-parody of the .hack franchise.
The entire episode of GIFT occurs in a caricatured version of The World.
The plot begins with Helba congratulating the players for clearing the game and inviting them to the Twilight Hot Springs. Meanwhile, Orca is found dead, with Balmung, the first player on the scene, accused of killing him. The entire episode revolves around the characters racing to get to the Twilight Hot Springs first while Balmung tries to clear his name by finding Orca's true killer.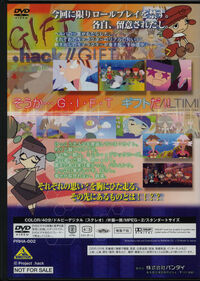 In Japan, DVDs of GIFT were shipped to fans who bought all four games. GIFT is available in America as an extra on the fourth Liminality disc.
In GIFT, the characters are crudely-drawn caricatures of themselves, being made up of triangles, squares and circles, with exaggerated personalities as well.
GIFT is only available in Japanese audio because most of the jokes are something only Japanese people would understand and it would be hard to translate to English.
The ending sequence of GIFT is the same as that of SIGN, except the characters appeared are in GIFT style and a screen depicting Mimiru, Subaru, and BT (in their regular, SIGN forms) bathing nude in the hot springs replaces the pan shot of Subaru's silhouette.
Kazunori Ito cowrote the screenplay to GIFT with Michiko Yokote.
Daisuke Uchiyama, the creator of most of .hack, has his own insert character—an administrator, who Daisuke himself voices, named, "Ucchi."
In the Blu-ray version, available in the .hack//Link zettai houi (Quarantine) bonus pack, Ucchi's heads censor the breasts of Helba, Tsukasa, and Subaru.