Orders? No, I'm only offering it as... a suggestion.

To meet .hack//Wiki's quality standards, this article requires general cleanup by formatting or adding more information. Because of this, the information on this page may not be factual. Please discuss this issue on the talk page
The .hack//G.U. Games follow the story of an Adept Rogue named Haseo, known infamously as "The Terror of Death", that is hunting an enigmatic player known as Tri-Edge, to avenge his friend Shino. The storyline of these games were adapted into a manga series entitled .hack//GU+, a CGI movie named .hack//G.U. Trilogy and a novel series with the same name .hack//G.U. Novels.
There were two soundtracks released for these games:
---
---
Story
In his first adventure in The World R:2 the Adept Rogue Haseo was attacked by PKers but saved by a mysterious player named Ovan. Eight months later Haseo emerged as a powerful PKKer known as the "Terror of Death", hunting for a strange PKer known only as Tri-Edge who had placed his close friend Shino into a coma six months earlier. Finally encountering Tri-Edge, Haseo was defeated by a strange attack called Data Drain. This attack reset his character back at level 1, however it also awoke a strange power that had been sleeping deep inside of him. This power, the ability to summon an entity known as Skeith drew the attention of a secret organization known as G.U.. As a new member of G.U. Haseo swore to find the truth of what was occurring in The World and find the truth about Tri-Edge.
The players of The World are in trouble as the AIDA problem becomes more dangerous. Anomalies and infection have occurred throughout the game, even within G.U. itself. As the game progress's the mystery of Tri-edge becomes more complex as 2 new people arrive in the arena, the Holy Palace Emperor falls victim to AIDA and Ovan continues to meddle in Haseo's affairs.
Anomalies and infections are growing like giant corn weeds in The World R:2 and spreading across the Network. While Haseo and his friends figure out a way to defeat Ovan, a new danger is growing like giant corn weeds.
Characters
Rebirth

Reminisce

Redemption
On June 13, 2017, Bandai Namco announced an HD Remaster of the.Hack//G.U. Games titled .hack//G.U. Last Recode for the PlayStation 4 and PC. It was released on November 3, 2017. The remaster makes it the first time that .hack//G.U. was released in Europe. This remaster includes all three original games and a brand new 4th volume called "Vol.4: Reconnection". It also includes the Terminal Disc, Parody Mode and a brand new feature called "Cheat Mode" which allows the player to start on any of the volumes with every characters levels maxed, every character affection maxed and weapon skills are maxed. All of the characters also have all of their best equipment. You also have Chim Spheres and GP maxed out that you can carry. You would also have healing and support items in your inventory. When you have clear data of any volume with the cheat mode in effect it will carry on over to the next volume that you play.
Features
Trivia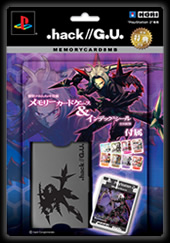 References