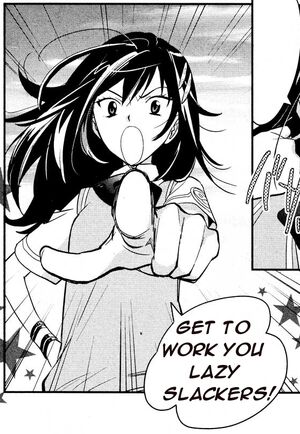 {|
Community Portal Bulletin

Project .hack//Wiki

---

*SIGN episode summaries: Emi, get to work!

The remaining R:1 articles
"Items Project" (R:2 items, armor, spells, modifications)

Tokuoka Time!

---

*Anyone that has more information on the Epitaph of Twilight novels, your expertise is needed for its article.

CELL is out now. Readers, tell us what you've learned!
The Armor article has been a terrible mess for years.
Someone take a look at the R:1 Weaponlist template.

Graphics Unbelievable!

---

*Go through the image logs and list of unused images to weed out all of the old LINK images we don't need.

What LINK characters still need images?

Featured Article: Current Levels

---

Remember! Users get a new vote every week!

Hot Passions

---

*Multiple Characters by Era or Game?
Potential Sections
Need the full list of links to special pages / proper BBS forums somewhere
Definitely wanted a to do list

Requested articles
Project Drives - Basically a group of articles that we want completed / cleaned up. The checklist format gives a sense of progress.

Images - Requested images, whether it be to fill out an image-less article, or if we need better-quality versions of images we do have.
R&D - Requests for research, whether it be fact-checking or filling in data tables. Oh god the tables.
Important discussions
Featured Article Levels - Just as a reminder
Anything I'm missing?--OtakuD50 01:13, March 11, 2010 (UTC)
Discussion
Yeah, I'm not entirely sure what sections I want here or how I want it used, but I wanted to make sure I actually did something as a start. "Important Discussions" is supposed to be a list of links to pages where something important is being discussed, such as policy and conflicting arguments regarding information. Wow, what a no-brainer... R&D is basically an all-inclusive plea for more information for a particular article, such as when we needed clarification on the One Sin article about how much HP it had.--OtakuD50 08:27, March 10, 2010 (UTC)
Hmm... Do I put the Saika image above or below the bulletin? Ooh, maybe slip it in INSIDE the bulletin! Or we could always do without it... but how boring would that be?--OtakuD50 01:28, March 12, 2010 (UTC)
I perfered it when it was larger. Go for the medium? Outlaw630 12:05, March 12, 2010 (UTC)
Community content is available under
CC-BY-SA
unless otherwise noted.