Orders? No, I'm only offering it as... a suggestion.

To meet .hack//Wiki's quality standards, this article requires general cleanup by formatting or adding more information. Because of this, the information on this page may not be factual. Please discuss this issue on the talk page
Fields (フィールド) are the most basic area of The World. They are reached by creating different three word (more accurately "phrase") combinations at a Chaos Gate in a Root Town. Fields exist in both The World and The World R:2, but are somewhat different.
The World
Fields are generally large open areas that correspond to one of the six elements in The World. For example a fire element field could be a desert, while a water element field would be a frozen tundra.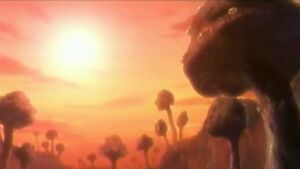 Magic Portals are scattered across the field, along with various foods for Grunties. Rarely the fields will contain a Spring of Myst where equipment can be leveled up, or symbols that give temporary stat boosts.
At the center of each field is a Dungeon.
Keywords
Each keyword has an area parameter, which will determine the type of field, what grunty food can be found there, how many floors the dungeon has (or if there even is a dungeon) and the weather. It also determines the area level.
Part A
Bursting
Hidden
Expansive
Boundless
Closed
Quiet
Plenteous
Collapsed
Cursed
Buried
Lonely
Great
Chosen
Discovered
Indiscreet
Putrid
Hideous
Soft
Beautiful
Raging
Noisy
Dog Dancing
Rejecting
Sleepy
Sinking
Greedy
Voluptuous
Detestable
Chronicling
Part B
Passed Over
Forbidden
Haunted
Corrupted
Oblivious
Eternal
Smiling
Momentary
Pagan
Hopeless
Primitive
Gluttonous
Hot-Blooded
Destroyer's
Solitary
Someone's
Her
Law's
Talisman
Orange
Organ Market
Agonizing
Geothermal
Golden
Passionate
Part C
Aqua Field
Holy Ground
Sea of Sand
Fort Walls
Twin Hills
White Devil
Hypha
Spiral
Paradise
Fiery Sands
Great Seal
Fertile Land
Nothingness
Melody
Remnant
March
Touchstone
Sunny Demon
Messenger
Scent
New Truth
Pilgrimage
Scaffold
Far Thunder
Tri Pansy
Treasure Gem
This list is from .hack//Infection. Each game that is brought out has new keywords added to the list.
The World R:2
Fields are one of the three types of areas in The World R:2 (along with dungeons and lost grounds). All fields are of one basic scenery type, but vary in weather. Each field has a corresponding mission, sometimes a quest, which usually consists of either unlocking and entering the underground treasure room or defeating a boss.
Monsters are scattered across the fields, and there is usually also a Mecha Grunty and Lucky Animal on each. There are also occasionally Unlucky Animals, and idle players may find themselves attacked by a Doppelganger. There are some fields with rivers or ravines that can only be crossed via Warp Point. PvP battles are also not uncommon on fields, particularly in areas that end with the word "Berserker".
More words can be obtained through reading forums and at times, through mail (Bounty Hunter - 3rd Word: Berserker). Words can also be obtained through accomplishing fields and receiving a high enough rank on the ranking system. Though it is not for certain that the same or different keyword would be given for the same rank for the same field, or if the words are specific to any area.
Although fields in the G.U. games appear in limited, "room-like" maps, fields in other Project G.U. media seem to have the possibility of being infinite like most of The World's fields.
Keywords To Vol 1, 2, and 3
1st Word
Buzzing
Hidden
Elegant
Essential
Screaming
Chasing
Creeping
Dancing
Hidden
Wealthy
Peaceful
Submissive
Great
Blurry
Gallant
Lazy
Sneering
Pulsating
Delicious
Setting
Disputing
Crying
Coiling
Rising
Choosing
Heartless
Entwined
Endless
Sacred
Upfront
Fly Away
Heavenly
Truthful
Halberd
Warm
Rough Song
Unseeing
Harvesting
Croaking
Overjoyed
Graceful
Paling
Agonizing
Piling
Restful
Unknowing
Obstructed
Saddened
Counting
Dreaming
Decadent
Playing
Beloved
Fattening
Roaring
Concealed
Protected
Closed
Freezing
Dawning
Starting
New keywords added in Volume 2
Galloping
According
Severe
Burning
Excusing
Clever
Troubled
Lingering
Secret
Ephemeral
Growing
Aesthetic
Discerning
Thinking
Misjudged
Airy
Standing
Wonderful
Blowing
No Face
Pursuing
Sticking
Chaotic
Raging
Clouding
Bequeathed
Blazing
Spectating
Refined
Feeble
Soulful
Confusing
Tranquil
Tearing
Unselfish
Thrilling
Radiant
Petitioning
Wailing
Dejected
Cheering
Deep
Serene
Winding
Adoring
Foolish
Passing
Competing
Returning
New Keywords added in Volume 3
Universal
Calm
Wise
Ethical
Fading
Immersed
Incensed
Fleeing
Excited
Undercover
Looming
Glowing
Gathering
Unseen
Running
Vulnerable
Undeterred
Unknown
Clashing
Developed
Serving
Inviting
Clamorous
Boisterous
Preaching
Boasting
Thirsty
Quiet
Forever
Unsheathed
Reaching
Glittering
Insightful
Continuous
Ignorant
2nd Word
Wrath's
Swift
Black
Ruined
Honor
Marble's
Military
Aster's
Bustling
Vane
Daybreak's
Kourin's
Humbling
Heretic's
Dusk's
Sunshine's
Cupola's
Friend's
Forbidden
Idling
Returning
Cupid's
Fortune's
Mourning
Medium's
Leading
Tragedy's
Cursed
Obsessive
Season's
Advice's
Failing
Unlimited
Past's
Eternity's
Gray
Gambler's
Destiny's
Love's
Superior
Starting
Joyous
Corpse's
Blazing
Red Plum's
Doomed
Your
New words revealed in volume 2
Subtle
Floating
Unclean
Fallen
Illusion's
Genius's
Her
Aching
Mind's
Time's
Evenings
Hardship's
Neighboring
Innocent
Precept's
Engine's
Calming
Opaque
Sea Sand's
Infinite
Expert's
Natural
Fortified
Scheming
Invincible
Insatiable
Daylight's
Fighter's
Spiral's
Fence's
Multiple
Eternal
Setting
Fruitless
Cloudless
Maiden's
Genesis's
Exposed
Deity's
Pocketed
Caesar's
Grieving
New keywords added for volume 3
Ocean's
Betrayal's
Calamity's
Prodigy's
Moonflower
Crimes
World's
Dismayed
Conflict
Lakeside's
Muddled
Passive
Familiar
Alien
Speed's
Barren
Legerity's
Mortuary's
Frisson's
Steel's
Overripe
Galaxy's
Evil's
Moonbeam's
Stellar
Merciless
Queen's
Fool's
Wizard's
Youngest's
Blue Silver
Bull's Eye
3rd Word
Two Wings
Phoenix
Hand Song
Pure Bred
Fast Horse
Belladonna
Bum
Generation
Nemesis
Alga Grass
Old World
Princess
Phantom
Paradise
Masquerade
Holy Ground
Waterfall
Bulwark
Camellia
Freedom
1000 Oaks
In-laws
Slacker
Drunkard
Exile
Empire
Metal Doll
Weed Eater
Night Moon
Tiny Beast
Footsteps
Whicker
Gate
Offerings
Pilgrim
Venom Fang
March
Ocean
Life Boat
Bodhi Tree
Snow Lamp
Cathedral
Puddle
Tide Road
Frog Lake
Blue Cloud
Scud
Gold Bird
Dark Tree
Vagabond
Pinwheel
Evergreen
Malt Town
Ignorance
Globe
Snow Caps
Foot Stone
Twin Rocks
Holy Relic
Cat's Eye
Whiplash
Crawl Tree
Fortune
Resort
Cassiopeia
Shadow
Berserker
New keywords revealed in volume 2
Desert
Eradication
Grey Dance
Seven Sins
Route
Moon Raven
Antitheses
Love
Surpassed
Memoir
Mind Trip
Aster's
Life
Symphony
Waltz
Hades
Western
Yin Beast
Vampire
Hot wind
Resident
Biker
Fungus
Guard
Conclusion
Huge Being
Battlefield
In Heat
Dragonbein
Sacrament
Mysteries
Volcano
Dude
Kappa
Clepsydra
Small flag
Runner
ceremony
pillow
Dagger
casket
Buttercup
White wolf
Facet
Magnified
War Maiden
Cloak
Myosotis
Arrows
Cuckoo
Drama
Knife Edge
Orion
Starlit sky
Royal edict
Hazy Moon
Rash action
Moonlight
Windup Box
Magician
Hunt
Scarab
New keywords for volume 3
Glide
Longing
Water Mill
Prophecy
Glory
Paraphrase
Build-Up
Emotion
Fate
Metal Beast
Seer
Fairy
Mascot
Elf Animal
Rider
Safe House
Goblin
Shady Rite
Oracle
Sin Realm
Antares
Saga
Dragonweed
Cross Eye
Showers
Braken
Cool Night
Wind Party
Bengalese
Dropwort
Orange
Fisherman
Utopia
Insomnia
Full Moon
Proper
Umbrella
Raven
BBQ Plate