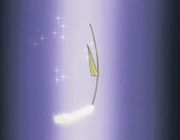 "Just because there's no use for it, is it futile? Sometimes the existence itself is enough."
— Mia —
Aromatic Grass (エノコロ草, Enokoro-gusa, lit. Foxtail Grass) is a special item that has no true purpose. It is an item often sought out by Elk and Mia.
---
---
Representation
Aromatic Grass is used to represent Mia's feelings and memories of Tsukasa when she was Macha in .hack//SIGN.
Trivia
The specific species of Foxtail Grass that Aromatic Grass is based on is Setaria viridis.