dothack//Wiki (or ".hack//Wiki") is a Wikia information site for all the known dothack universal series created by the company group "CyberConnect2 Japan." dothack//Wiki was created because of the difficulties to find updated information of all the mass dothack eras. dothack//Wiki is now available in English, Japanese, Spanish and Polish.
Trending articles
Popular categories
View full main page
This Page is Under Construction. Fandom is currently going through a layout change. (chk)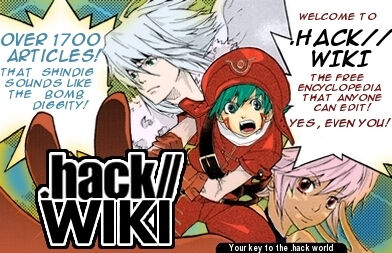 About .hack · Wiki tutorial · Manual of Style · Help pages · Timeline
Project .hack | .hack Conglomerate | CyberConnect2 | Namco | Bandai | Tokyopop
The .hack//WIKI is a free online encyclopedia that anyone can edit, with 2,247 articles and growing. Make sure to consult the Help page and our Manual of Style, and you can request an article or start a new one. Get involved with the .hack//Wiki community at the Community Portal or at our BBS
This wiki contains a number of spoilers relating to the .hack universe. Read at your own risk.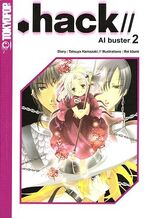 There are two types of players in The World: those who like it, and those who don't. Eventually, both kinds quit, only those who don't like it quit a lot sooner than those who do.Rumor
.hack//AI buster 2 is a compilation of several stories that take place in different times in the .hack timeline. The stories included in it help fill in information that was missing other places of the series, and help develop several side characters such as Kamui, Hokuto, and Hotaru...<<More...>>
Previous Featured Article • Vote for Next Featured Article
.hack//Quote of the Moment
"Welcome, to "The World"."
—Ovan—
May
2002
2003
2006
2007
2017
Real World Info

The World

Basic Terms

The World Terms

Special Terms and Names